Home Page
About Us
Our farmers
Recipes
Contact Us
Events and Markets
Links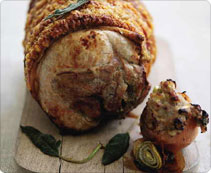 Roast Pork Joint © Love Pork 2009






Contact:

Andy or Annabel
Address:
Higher Merripit Farm, Postbridge, Yelverton, Devon PL20 6SZ
Tel:
01822 880204
E-mail:
annabel_caunter@hotmail.com
Website:
to be confirmed
Delivery:
free delivery within a 20 mile radius, small payment after that
Supply:
fortnightly
Minimum Quantity:
There is no minimum
The Pork is from Saddleback or large white cross sows which are free to roam their own 6 acre field. All of our piglets are reared and finished on our farm in Postbridge. We offer whole or half pigs at a fixed price per kilo which can be jointed to your requirements. We are happy to accommodate any sized order whether it be a whole pig or a pack of sausages!!


Grilled Pork Chop © Love Pork 2009